Village Improvement Project (VIP, Liberia) is a recipient of our 2015 Feedback Fund. Recently they shared this insight with us.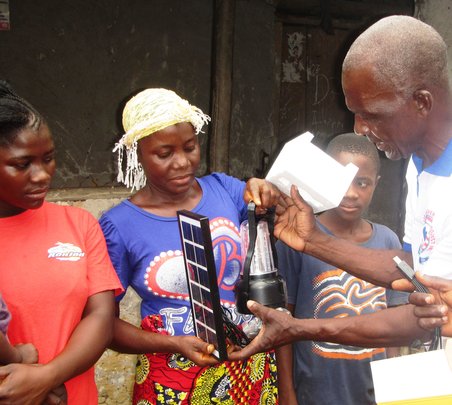 In 2015 we donated 180 solar lanterns to local people and erected road signs with the names of villages (so they would be "on the map" so-to-speak). With the Feedback Funds we received, we wanted to capture data on how well our beneficiaries use lanterns or what they think about road signs, identify problems/challenges, and gauge their satisfaction and impact.
At first, we were too focused on having predetermined questions and standardized reporting. GlobalGiving's team challenged us to simplify: Design our feedback around our audience and our goals instead.
We explored automated phone surveys, but when we tested the system with our team, it became obvious it was too complicated for our communities. From this learning, we decided to use in-person interviews for feedback collection. Taking the time to try ideas and being flexible enough to change course was a valuable part of our learning. We will use this feedback to help us better understand what drives sustained adoption of clean energy and safe travel. Specifically, we want to first know are the lanterns and road signs useful, and secondly, what other resources are needed.
If the lanterns and road signs are found to be useful, we will donate more lanterns and road signs to additional communities. If not, we won't. If other resources are needed, we will research how to obtain those resources. Asking now will help us plan for programs in 2016 and beyond.
What people said about the signs
We placed posters next to each new road sign, asking travelers to "flash" or "beep" the toll-free number and receive a call back from us. People called in about the new road signs. Responses included:
"The road sign is good and useful for identifying the location of our village."
– Buba Villager
"The road sign is helping travelers visiting our village to find their way easily."
– Boombula Villager
"Hope that a road sign could be placed in our village too."
– Kumala-Bonokai Villager
Many callers requested we give them stuff. Here is the wish list, in the order of most requested first:
hand pumps for water (9 requests),
solar lanterns (8 requests),
latrines (4 requests),
palava hut (3 requests) and schools (3 requests).
Lessons
Having two feedback channels allowed us to experience various strengths and weaknesses of our strategies as well as capture informative data.
Benefits of in-person interviews were:
builds rapport
can take notes beyond the questions
being able to clarify responses immediately
Weakness: Extensive time travel and coordination for interviews. Rough roads damaged vehicle.
Benefits of "flash this number" for a feedback call were:
flexibility for people giving feedback – drivers could not instantaneously call when they saw the sign but we could talk to them once they were done driving since the phone number was recorded
scheduling wasn't needed since the calls gave more flexibility for having conversations
time and cost was minimized for staff because there was no need to travel.
Weakness: no in-person rapport
We were able to interview 15 callers, 10 villagers and 5 visitors, from 14 different towns [one from the Gaynjabu village from the Lantern project]. We asked "Are the road signs useful?" and "Do you need something else?" All 15 callers indicated yes, the road signs were useful. Of these callers, 5 indicated that their villages lack road signs and feel the signs would be useful.
We know that this doesn't represent everyone, but it is a good sign that our signs are being seen.
This is an example of a GlobalGiving organization that Listens, Acts, and Learns.